Buy now, pay later (BNPL) methods of payment such as Cofidis 4xcard are expected to grow by 43.2% in Spain by the end of this year.
This popular installment payment option lets you offer customers financing to make monthly payments for their orders. Thus, providing payment flexibility, improving the checkout process, and boosting overall customer satisfaction. But if you're customers don't know it's available in your online store and the benefits of BNPL, they probably won't use it. That's why we've created this quick start merchant guide to help you succeed at marketing Cofidis 4xcard to shoppers.
1. Update the announcement bar on your website
Using your website's announcement bar to let shoppers know they can finance their payments over a 90-day period using Cofidis 4xcard is a great way to build awareness of this payment method. For example, you could say, "Buy now and pay later! Select Cofidis 4xcard at checkout to pay for your order in monthly installments over a 90-day period."
2. Add the Cofidis 4xcard widget to your product pages and cart page
The Cofidis Widget dynamically calculates financing conditions based on the specific retail price. This way shoppers can have a real-time view of what their monthly installment payments will be.
3. Add a Cofidis 4xcard banner to your website
Choose the banner size that works best for your business and add it to your product pages (pictured above), collection pages, or any other page on your website.
Download instructions:
Click your preferred file size below to open the file
Click </>
Select the image
Click Download

Download here (woman):

Download here (man):
Note: the link "Ver detalles" should redirect to this page.
4. Create your own website banner
Create a banner using your branding to advertise Cofidis 4xcard on your e-commerce website.
Note: To comply with Cofidis, you must include the following copy, "Financia tu compras con Cofidis en 4 cuotas / 90 días." And your banner must link to this product page.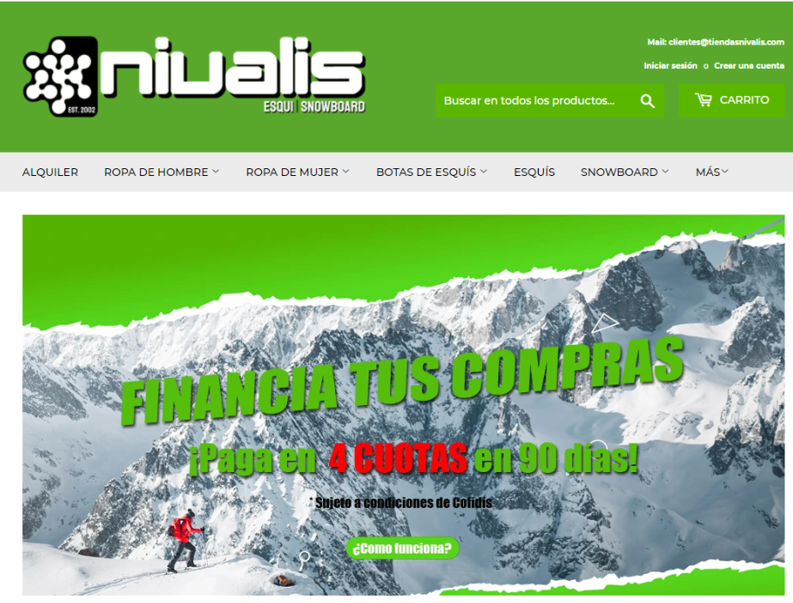 5. Announce the availability of Cofidis 4xcard via all your marketing channels
Leverage email marketing, social media, and your blog to tell customers they can now pay in installments using Cofidis 4xcard. Use the banners provided by Cofidis or your own designs to create visuals that encourage and excite customers to try Cofidis 4xcard.
Note: To comply with Cofidis, you must include the following copy on your branded graphics, "Financia tu compras con Cofidis en 4 cuotas / 90 días."
Additional information
Here is an overview

of how Cofidis 4xcard works for consumers and the benefits. You can use this information in your marketing messaging to educate prospective and existing customers about how installment payments work.

Here are Cofidis 4xcard frequently asked questions

. Find out how to activate the Cofidis 4xcard in your MONEI account, what the transaction fees are, how to add the Cofidis Widget to your store, and more.
Sources:
GlobeNewswire: Spain Buy Now Pay Later Market Report 2021: BNPL Payments are Expected to Grow by a Staggering 43.2%