Attention! If you're interested in using the MONEI X or MONEI Pay plan you do not need to get your own TPV Virtual (and this article does not apply to you). Get started here.
If you want to use your own acquirer or payment processor and/or configure payment routing rules, you can upgrade to the MONEI PLUS plan. But to do this, you'll need a TPV Virtual. Read on to learn what a TPV Virtual is, and then you can contact support to upgrade to MONEI PLUS.
What is a TPV Virtual?
Simply put, a TPV Virtual (sometimes referred to as a merchant ID or merchant code) is like a point-of-sale (POS) except it's virtual. TPV Virtual is a virtual payment terminal for e-commerce websites. It's required to process credit card transactions that are card not present, that's why it's referred to as "virtual."
You can get your TPV Virtual from your corporate bank (this can also be called an Acquirer or Acquiring Bank, as this bank will "acquire" all the virtual transactions/payments for you — the merchant). This is how it's translated:
Spanish:

TPV Virtual (Terminal de Punto de Venta Virtual)

English:

Virtual POS (Virtual Point of Sale)

French:

PDV

Virtuel

(Point de Vente Virtuel)
Is a TPV Virtual the same as a Merchant Account?
No! But getting a TPV Virtual means you also have merchant account services.
You can't access a merchant account like a traditional bank account. It's a business agreement with a Mastercard and/or Visa acquiring member bank. In the payment transaction process, the acquiring bank receives the funds from the issuer. This typically happens one day after the transaction. Then the payment is settled and the money is deposited into your business bank account (minus transaction fees). Acquiring banks assume the risk of credit card transactions, and wait to get paid from the issuing banks at a later time.
Smaller businesses usually work with an "all-in-one" payment service provider (PSP), which includes merchant account services and payment processing. While larger businesses opt for a different setup and tend to go for a full-service merchant account for e-commerce.
When you create an account with MONEI, you don't need to get a TPV Virtual from an acquiring bank unless you're interested in the MONEI PLUS plan (bring your own acquirer or processor). If this is the case, we can help you get a TPV Virtual with one of our acquiring bank partners and provide technical support while you're getting set up. Submit a request here.
For the MONEI X or MONEI Pay plans we handle acquiring and processing, and act as an all-in-one PSP. All you have to do is open an account. Don't worry about getting TPV Virtual credentials in advance.
When and why do I need a TPV Virtual?
Online sellers need a TPV Virtual to accept card payments without a security PIN. This is also known as a card not present transaction. Luckily, with MONEI, this service is built into the platform unless you're interested in the MONEI PLUS plan (as we mentioned above). Then you must have a TPV Virtual to configure credit card and digital wallet payments in your MONEI account.
The only payment method that you can configure without a TPV Virtual is PayPal.
What role does the TPV Virtual have during the payments process?
When a customer pays online, the payment gateway (MONEI), facilitates the route to and from the processor. The payment gateway connects to the TPV Virtual, takes the credit card data from the customer, verifies it for accuracy, and sends it to the processor.
How do I get a TPV Virtual?
You must go to your corporate bank to request a TPV Virtual. You can also go to one of our acquiring bank partners (listed at the end of this page). Contact us and we can help you with the process.
Important! In Spain, all banks work with Redsys to issue a TPV Virtual to their customers. This is also the case for Andorra-based businesses — the TPV Virtual is administered to merchants by Crèdit Andorrà, BUT it is created through Redsys.
What does this mean?
If you're based in Spain or Andorra and have a TPV Virtual, you have Redsys credentials. So, if we ask for your "Redsys credentials" when you sign up for the MONEI PLUS plan, this is what we're referring to!
When your TPV Virtual is created, you'll receive an email notification. This notice will include your "Redsys credentials":
Commercial Code (Merchant Code/Merchant ID)

Terminal (Merchant Terminal)

Secret (Code SHA256)
Important! If the credentials you received come from another provider (for example Paycomet), contact your bank and specifically ask for the Redsys TPV Virtual credentials that we listed above.
In the same email, the bank gives you a link to access your Redsys admin panel. It contains a login and password to the Redsys panel where you can view your transactions.
What do I need to do with my "Redsys credentials"?
Once you activate your MONEI account (on the MONEI PLUS plan), you'll be able to configure payment methods. HOWEVER, you can NOT complete the configuration process for credit card and digital wallet payments unless you have a TPV Virtual and the credentials that come with it.
Reminder! For both the MONEI X and MONEI Pay plans (most merchants start here), you don't need to worry about getting a TPV Virtual to open your account. We manage this for you.
When do I need to input my TPV Virtual credentials in MONEI?
If you have the MONEI PLUS plan, during the payment configuration process, you'll be asked to enter the credentials on this screen. After you click Configure, you're ready to accept payments!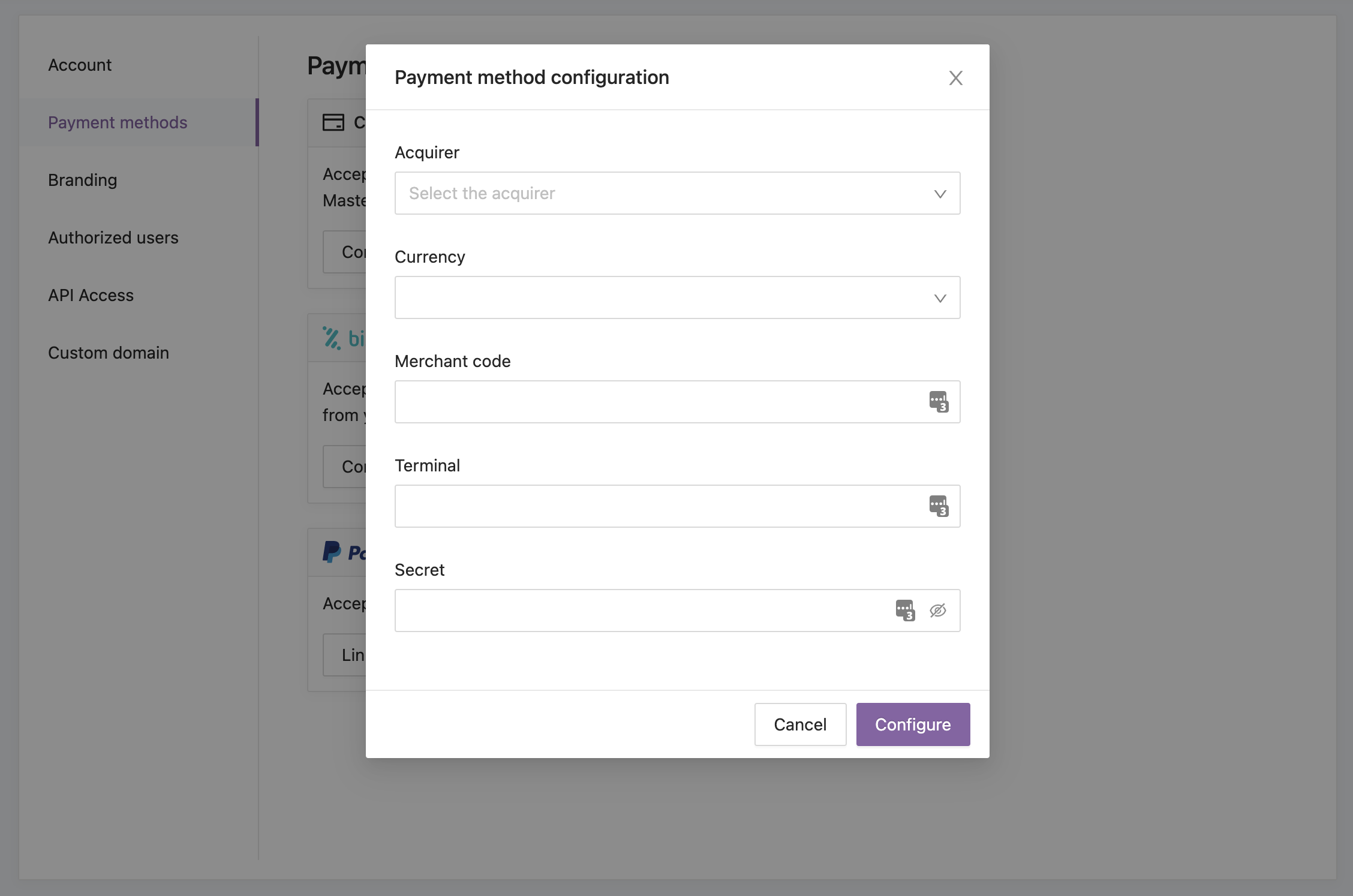 So, does this mean if I have TPV Virtual credentials through Redsys I can configure payment methods immediately in the MONEI PLUS plan?
Yes! But first, you'll need to contact support to upgrade your account to MONEI PLUS.
What if I have a physical retail store and have a TPV terminal?
Physical stores in Spain that accept payments with a physical terminal (TPV or POS) have Redsys credentials. Payments from the terminal are also processed by Redsys. BUT you may NOT have a TPV Virtual as you are not selling online.
In this case, it should be easy for you to ask your bank to open a TPV Virtual so you can accept online payments. The bank already has information about your business, but may ask for more details about your website URL/domain. Once you provide additional information, it should be fast.
Does MONEI have any payment method configuration options that
don't
require a TPV Virtual?
Today, the only payment method that you can configure without a TPV Virtual is PayPal. When you configure PayPal, the shopper can pay from their PayPal account with whatever payment options they have configured in their personal PayPal account.
Learn more here about payment configuration options that are currently available to MONEI merchants.
MONEI's acquiring bank partners
If you don't already have TPV Virtual credentials, you can go to one of our acquiring bank partners. Contact us and we will help you with the process.
ING

Caixa Geral de Depósitos

Banco Comercial Portugues

Unicredit SpA

Intesa Sanpaolo

UBI Banca

Banamex

BNP Paribas

Credit Agricole

Groupe Credit Mutuel

Societe Generale
Is your business based in Andorra?
MONEI also supports e-commerce businesses in Andorra. Go here to learn how to create your account.